Posted by lborodkin in : Uncategorized , add a comment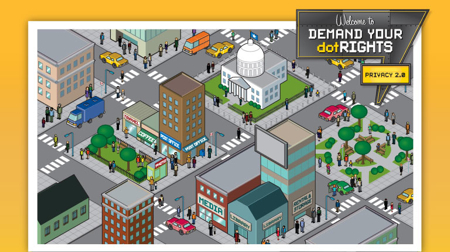 While I was at the Computers, Freedom and Privacy conference in San Jose, California, this week, Peter B. Collins asked me to talk on his Internet radio program about the Social Network User's Bill of Rights we were hammering out at the conference.
To listen to my guest spot on the Peter B. Collins radio show, click below.
***Peter B. Collins Show Episode 142***
Peter asked great, insightful questions from outside the social media bubble.
1. What are reasonable expectations of privacy for Google search queries?
2. Are Yelp's review ranking algorithms a breach of an implied agreement with businesses?
3. Is Facebook developing a cottage industry in providing user data at $500 per subpoena?
4. Where are the courts on compelled disclosure of IP addresses?
5. Is Facebook heading for a tragedy of the commons when used for self-promotion?
6. Have social media policies eroded traditional constitutional protections in executing search warrants?
Peter's toughest questions were about the intersection of constitutional law and social media Terms of Service, particularly Fourth Amendment issues.
Peter also asked for a recap of the seven principles in "We, the Users: Facebook User's Bill of Rights" I wrote with Professor Jack Lerner of USC Law School for the San Francisco Chronicle.
Thanks, Peter!
Beautiful Pixel Art from the ACLU of Northern California's dotrights.org project
Posted by lborodkin in : Uncategorized , add a comment
Cory Doctorow predicted that printed newspapers will become like opera, the province of "rich weirdos." Despite this, journalism is alive and well in the new media era, and living in Cyberspace.
To help such online journalists, I participated in a Legal Issues Panel on Episode 7 of WJChat through TweetChat with some of the legal leaders in new media journalism. The panel was assembled by Robert Hernandez (@webjournalist), who teaches a course in Online Journalism at USC's Annenberg School.
My fellow panelists were Kurt Opsahl of the Electronic Frontier Foundation (@EFF), David Ardia and Kimberly Isbell of Harvard's Citizen Media Law Project (@CitMediaLaw) at the Berkman Center for Internet & Society, and Jack Lerner (@JackLerner) of USC's Intellectual Property and Technology Law Clinic.
Here is the transcript of WJChat Episode 7. A more coherent digest of the panel discussion is here.
If the formatting looks wonky, that's because it is. My Columbia Law Review editors would have had a minor heart attack back in the day where we debated such fine points as whether to end possessive plurals with an " s' " or an " s's. " (For grammar geeks, it was decided that official Columbia Law Review style that year was to use the full " s's " because the then-Editor-in-Chief thought the " s's " conveyed plural better than a "lonely single apostrophe hanging out by itself.")
As a matter of pure Blue Book style, I agree. But I don't get a credit for my Note on the Columbia Law Review website, since I signed my copyright away. You can read it if you can afford a Westlaw or Lexis subscription.
Perhaps one day we'll follow @BlueBook on Twitter. Properly, it would be @AUniformSystemofCitation, but that's over the character length. In today's Twitterverse, we wouldn't use an extra character on subtleties such as an extra "s" or whether two spaces follow a period. Life is short, right? Maybe it's not pretty, but we'd claim attribution for what we write.
That's a fair trade-off, I think.
But back to the show.
The panel discussed ethical, legal and practical problems of online news gathering and reporting. We focused on issues unique to web journalism – shield laws, web commenting, quotations, expectations of privacy, Creative Commons licenses, retractions, and DMCA agents. At times, there was a division between normative law and empirical law — that is, the split in what we believe doctrines such as the Fair Use defense in copyright may or should allow, and practical rules of thumb easy enough for your average Joe or Jill citizen journalist to stay out of trouble.
Here are some useful resources for online journalists that came out of the discussion:
EFF's Legal Guide for Bloggers
The Online Media Legal Network
PACER.gov and RecaptheLaw for federal cases
(To this, I add FindaCase.com.)
flickr.com for Creative Commons-licensed photos
archive.org for web history
http://www.copyright.gov/onlinesp/agent.pdf to register a DMCA agent
EFF's guide to Section 230 Protection
EFF's Bloggers as Journalists
My final tip? Be true to yourself, be accurate, and check your sources.
Posted by lborodkin in : Uncategorized , 7comments
Steve Kwok in China recently asked:
What is the most comprehensive law regarding IP protection for blog posts?
The short answer: the blogger retains copyright but the owner of the blog publishing system may reserve the right to sell the content back to the blogger.
Terms of Service increasingly try to carve out property rights for the owners of sites offering free publishing tools on the Internet. Fair enough, given the theory that a Terms of Service agreement is a contract between the user and the hosting site.
To take it a step further, does ownership of copyright in blog posts create property rights vis-a-vis third parties? The plaintiff in Lenz v. Universal Music Publishing Group, the "dancing baby" Youtube case thinks so.
Most of the commentary on the Lenz case focuses on whether posting the video, which embodied portions of the Prince song, "Let's Go Crazy," was fair use under the copyright laws. Fair use is always hotly contested, and always will be, due to the number of factors involved.
However, this case also raises the question of whether posting video to Youtube is a privilege or a right. In the first version of the complaint, Lenz claimed it is a right under her contract with Youtube. Presumably the contract arises from a user's agreement to abide by Terms of Service. Based on that, Lenz sought damages against Universal for interfering with that right.
"Because Universal's notice was intimidating, Ms. Lenz is now fearful that someone might construe some portion of a new home video to infringe a copyright. As a result, she has not posted a
single video on YouTube since she received the takedown notice."

It's a bold claim. How extensive are these rights, and how would they be quantified?
In the Second Amended Complaint, Lenz dropped the tortious interference claim.  However, as user-generated content becomes an increasingly important component of new media business models, it's worth considering whether others will test similar claims.